CCH/CWP Course

"Experienced Shooters"

$100 (with your firearm/ammo);


$120 (with our firearm/ammo)
NRA Basic Pistol

Course
+CCH/CWP course

(combination class)

$145 *Instructor Led Course
Courses meet required North Carolina and South Carolina mandated training program of instruction + handgun proficiency range qualification, includes CCH training certificate upon successful completion of this class for North Carolina residents or CWP approved training paperwork for South Carolina residents
This course is for shooters who wish to apply with their local sheriff for the NC Carry Concealed Handgun Permit, or for South Carolina residents to apply with the South Carolina Law Enforcement Division (SLED) for your Concealed Weapon Permit.

Course Instruction Includes;

Legal Issues
Handgun Nomenclature
Handgun Safety
Handgun Fundamentals
Marksmanship Fundamentals
Presentation Tehniques
Cleaning & Maintenance
Ammunition
Proficiency Drills




This course meets all the requirements for the applicant to apply for the NC CCH Permit for North Carolina residents, or for South Carolina residents to apply with SLED for the Concealed Weapon Permit. The class includes the required written exam as well as a physical qualification shoot where the student must demonstrate the ability to hit a center mass target at various distances as required by each state. We will guide you and provide additional instruction if necessary to improve your accuracy, which may require additional rounds.

NC/SC CCH/CWP Laws

Update Course


"For Current

permit holders ONLY"

$20

Click HERE to Register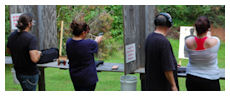 Course includes ALL of the CCH/CWP Course instruction and objectives, in addition to the NRA Basic Pistol Course (below) + additional range training (Course time is approximately 9-10 hours), includes NRA and CCH training certificates or NRA and CWP training paperwork upon successful completion of this combination class

Highly Recommended for all levels of gun owners, and/or anyone that wishes to enhance their handgun proficiency and knowledge in addition to the training mandated to apply for your CCH/CWP permit.
Course Instruction Includes;
ALL CCH/CWP COURSE INSTRUCTION +
NRA Pistol Basics Course Training & Materials including;
Safety Training / Firearm Storage
Pistol Mechanisms and Operation
Building Pistol Shooting Skills
Pistol Maintenance Selection And Use
Additional Shooting Positions
Information And Training Resources
Facts About The NRA
Popular Pistol Cartridges.